| | |
| --- | --- |
| Orig. Price: | $69.25 |
| Sale Price: | $44.50 |
| Availability: | in stock |
Sheet Moss - Hypnum Moss. For Sale Affordable, Grower Direct Prices NurserySeedlings.Co
Sheet moss belongs to the Plantae kingdom. It grows in a pattern in a non-vascular system. This plant is perfect for cushion and it feels like carpet. Sheet moss is great for the soil since it acts as a fertilizer. In addition, this plant grows naturally on rocks, logs, and other plants. Maybe you have seen it before while walking through the woods. These plants are found outdoors and can be grown in a terrarium. It has been known to be cultivated in zones 8-11 but it really depends. Sheet moss is perfect for your house because of its soft texture and green smelling air. Also, many people prefer to sit on the soft grass.

Buy Fast Growing Sheet Moss
Hypnum moss is a well-known part of the Hypnaceae family. Over 20 species exist, with just as many names. It is recognized as sheet moss, feather moss, carpet moss, fern or log moss, and brocade moss. Phases of bright green to yellow-green color are expected, with low growing, individual branches that are bristly and sometimes curly. One characteristic that differentiates hypnum from the rest is the absence of its midrib or costa. Its high transplant success rate makes this sheet moss an adaptable species; it can grow amongst rock, logs, and other plants. Partial sunlight or shade is preferred.

Sheet Moss For Every Landscape
Sandy or acidic soil provides a thriving environment, especially when planted in the spring. Some gardeners rely on hardiness zones, geographically marked areas that define the success of a plants growth. Hypnum moss has come to be recognized as a botanical preference and be found outdoors or online. Many mosses can grow in a terrarium as well. However, remember that Mother Nature always knows best.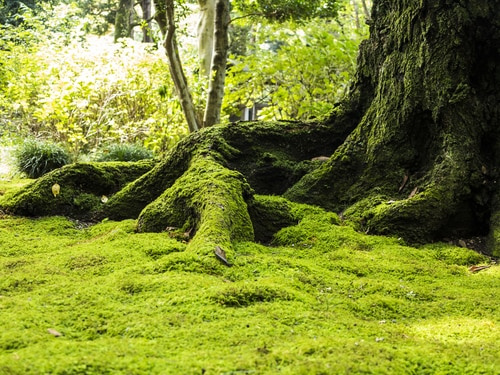 Sheet Moss
Sheet Moss is a low growing species that thrives in shaded areas. One of the most significant benefits of utilizing Sheet Moss is that it has a high transplant success rate. Just make sure to plant this species in fully shaded or partially shaded areas. Most people choose to use Sheet Moss for moss lawns or moss pathways in their yards. This species is an excellent addition to a woodland garden or landscape setting. Its to ensure the success of this species, it is often recommended to plant it near or under other plants order to provide adequate shade cover. This species is usually a deep shade of greens and appears to be slightly fuzzy.
The care of Sheet Moss is quite minimal if any at all. This species requires moist soil and colder growing conditions. You shouldn't have to worry about watering your Sheet Moss unless you experience extremely dry conditions or live in a warmer climate. Sheet Moss can survive in acidic soils in which most other plants cannot survive. Sheet Moss is a versatile plant species that provides a unique form of ground cover that adds a whimsical and charming appearance to your woodland garden setting.
Email: Mustanghp500@yahoo.com ph. 305-345-7068 - Leave Message -- Im out getting my hands dirty in the plants .
We ship anywhere in the continental Lower 46 United States. NO CALIFORNIA SHIPPING ALLOWED .
Plant seedlings are a perishable item ,.. There are no returns or refunds on plant perishable items . All sales are final.
If you have a plant question and wish to speak to an expert in your area click on the following link; http://www.csrees.usda.gov/Extension/
Problems of damaged item packages must be reported to us within 3 days of receiving the product. Send a photo of the items in question using the 'Attach Photos' button . Replacement items will only be shipped if the incorrect product was sent or received damaged. Seller promises seedlings to be fresh. The Seedling is a PERISHABLE live product which depends on BUYERS many important growing skills such as proper planting time, seedling depth, type of soil, watering, light intensity, proper use of fertilizers ,weed controls, fungicides ,insecticides, soil conditions,& reasonable weather during the growing period. These factors are totally out of the sellers control, and germination and growing results are the buyer's responsibility & risk. Seller cannot be responsible for buyers growing methods or mistakes. I have no control over weather related Solar Radiation Management climate issues in your region or climate atmosphere aerosols affecting the growing conditions of your soils. All seedling sales are final. No refunds or replacements after the 3 days has expired. By clicking 'buy it now' you are agreeing to these terms.
NOTICE:: Accepted M/O , Personal Checks, email for credit card request payment . Mail order Payment sent to A. Geldean 62 spiva branch drive blairsville, ga 30512
NOTICE:We ship live healthy trees and plants. We cannot guarantee any tree, plant or shrub, there are too many factors we have no control over. Always plant the same day received for best results. Know your trees and plants before you buy.
SHIPPING TO LOWER U.S. 46 STATES ONLY .. WE DO NOT EXPORT