The Tuliptree (Yellow Poplar) can be expected to grow in the zones shown on this map.
Attributes:
The Tuliptree is the state tree of Kentucky, Indiana and Tennessee because of its majestic beauty. It is a fast-growing shade tree that displays colorful yellow flowers in the early summer, replaced by equally colorful seeds held upright in the tree throughout the summer and into autumn.
Description:
A fast-growing tree with bright green leaves that resemble tulip flowers in profile and turn golden yellow in fall. Greenish-yellow flowers are carried high in the tree. Stems are aromatic. Likes full sun. Grows to 70' to 90', 40' spread. (zones 4-9)
Wildlife Value:
Tuliptrees provide food in many forms for many animals. In fall and winter, young trees are browsed by whitetail deer and rabbits. The spring flowers provide nectar for ruby-throated hummingbirds. Tuliptree seeds, maturing in summer and persisting into winter, provide food for both birds and mammals, including finches, cardinals, quail, mice, red squirrels, gray squirrels, and rabbits.
History/Lore/Use:
Once plentiful in their natural habitat in eastern America, Tuliptrees, with their tall, straight trunks, lack of lower branches, and hard wood, were favorites of loggers for railroad ties and fence posts. George Washington planted Tuliptrees at Mount Vernon which are now 140 feet tall and Daniel Boone favored the wood of this tree for his 60-foot dugout canoe.
Moisture:
It has normal moisture requirements, and can withstand some drought in humid regions only.
Leaves:
The leaves alternate, 3 to 6 inches long with distinctive lobes, a flat base, and two ear-like tips. Leaves are light green in summer and bright yellow in autumn.
Flower Color:
Flowers are tulip-shaped, 1-1/2 to 2 inches in diameter with 6 greenish-yellow petals, each with orange at the base.
Bloom Time:
May to June..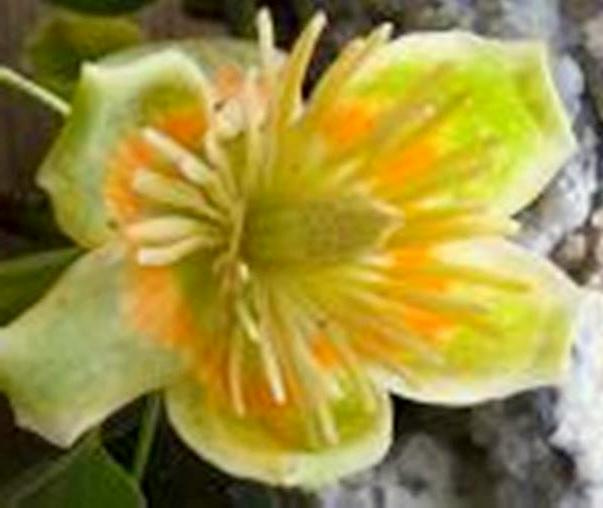 Fruit Description:
The fruit is a cone-like aggregate of long, narrow, winged seeds. They are held upward on the tree and remain long after the leaves have fallen.